App Store SEO is an important part of maximizing your app's visibility in the iOS app store. Gone are the days where the only option is to use a spreadsheet and write your own scripts to manually track your keyword rankings. Many tools have sprung up to take on this role. Both automating this important task and doing it better. I've tried a few of these tools and this post is about Sensor Tower.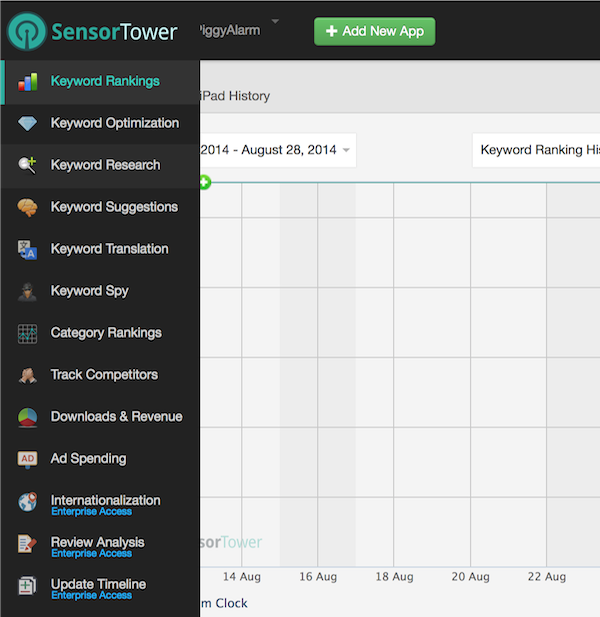 Compared to other tools, Sensor Tower has a more polished look and feel, with the right amount of shine. The primary features are listed on the left of the screen. As someone who has tried a few other tools, the user interface is intuitive and the functionality I tried each took not more than a few minutes to figure out.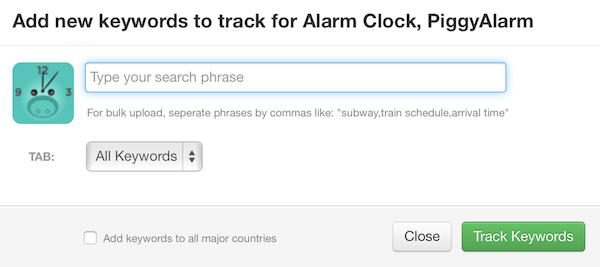 The first thing I did after adding an app to the dashboard, was to add keywords that I want to target for the app. These are the keywords which I want to monitor how my app rank for. It's quick and easy to add multiple keyword phrases by separating them with a comma.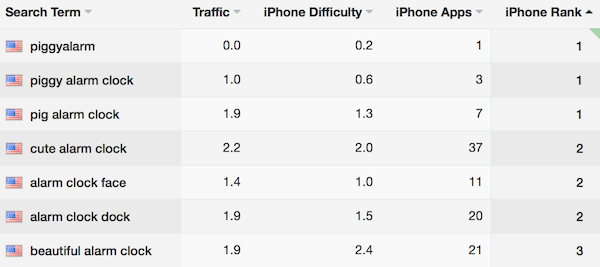 The keywords appear in a list and in addition to showing how your app ranks in both iPhone and iPad app stores, it also shows the amount of traffic you should expect for each keyword, as well as the difficulty in getting a good rank for it. There's some secret sauce used in calculating the traffic and ranking difficulty here and while it's an estimate, I find it a very helpful guide. There's a little bit of helpful functionality here that lets you add extra tabs to keep keywords that you might otherwise have to swap in and out – such as keywords that you have tried but want to stop looking at for a while.
The list also tells you if the rank your app has for each keyword has changed – whether it has improved or dropped recently. This is a screen I would keep an eye on.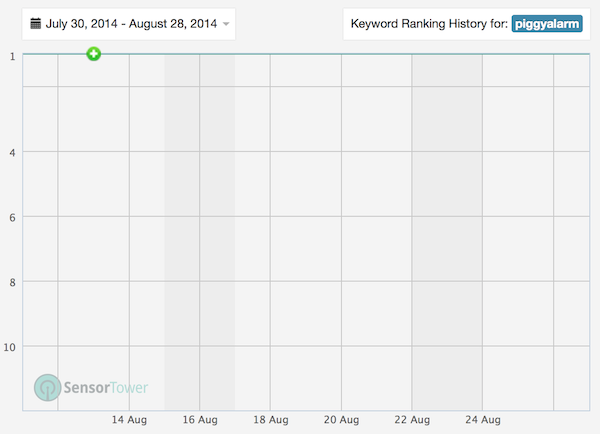 When you click on a row, you can see the history of your app's rank. It would however be great if you can add a keyword and have it backfill the history for that keyword to include how the app rank before it was added.

Next, I went to Keyword Suggestions which lets you enter seed keywords and helps generate ideas for additional keywords. I was able to play around the tool for a few minutes and came up with a few new keywords that I wanted to try. I also found a keyword relating to a key piece of functionality that I have accidentally left out in my app submission.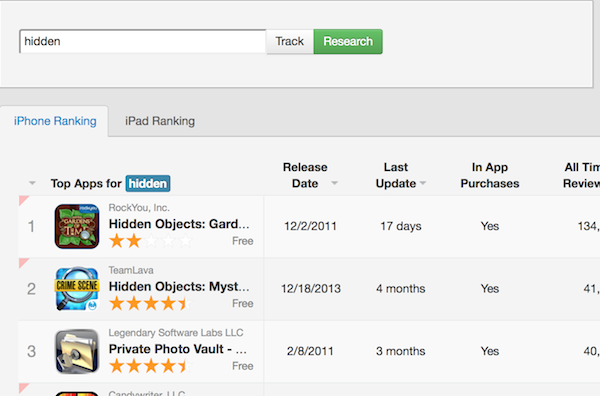 The nice thing about this functionality is you can click on any of the suggested keywords and it will pop you over to the Keyword Research tool, showing the apps that rank for this keyword, as well as the traffic and rank difficulty.

There's numerous features that looks useful to explore further as indie developer – Keyword Spy, Track Competitors, and Downloads & Revenue. There's functionality to track Ad Spending, but I haven't had much luck with advertising other than as a tool to get an occasional boost during a launch or a major update so it's not high on my list. It supports the Google Play store, but I haven't have the chance to try how well it works with it.
All in all, Sensor Tower is a well-rounded tool that is polished and easy to pick up.
Like this post? Follow me @hboon on Twitter.